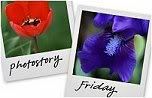 Hosted by Cecily and MamaGeek
I will post this warning here first. This isn't a 100% happy story. But it has to be posted today and I think even sad stories need posting sometimes. So unless you want to possibly cry (Hey, I'm crying), I would tell you to pass

.
So Here we go.
A glimpse into the past.
I'm taking you back to June 2008.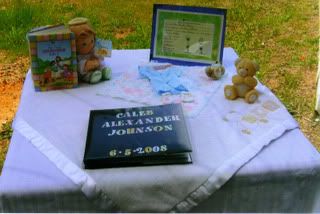 Unfortunately, this isn't a story about a baby shower or a welcome baby party. No. This is the photo memory book of Caleb.
Caleb was born at 17 weeks gestation to some dear friends of ours (and cousins!) on June 5, 2008. He died seconds after birth.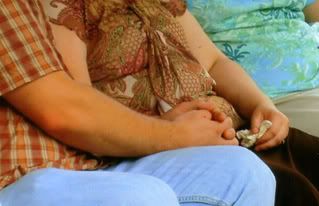 At the funeral for Caleb, Jess and Chris had this table set to the side, displaying many things. The little outfit, blanket, etc that the hospital had given them. Caleb's feet and hand prints. A book they had bought for Caleb. An angel. All things meant to go in his nursery.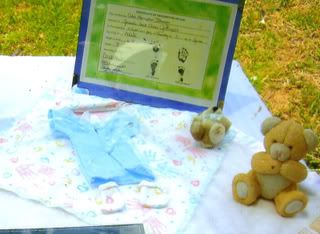 I share this story today, because in all its bitter sweetness, today was Caleb's due date. Today we should have been celebrating his birth (unless he was a late boy) and reveling in the miracle that each new life brings.
Instead, we all remember the loss felt that day in June. We all remember the pain and grief, felt, not just by Chris and Jessica, but all of us.
But, today, we also celebrate. Celebrate because, Chris and Jessica are not alone. They miss their son, oh yes, they do. But they also have hope. And they have love. And they have the miracle of new life in their home.
They will finalize the adoption of Andrew on March 4th, 2009. And then they will officially be a family of 3, but
We
know, that they don't need that final paper to be a family. To be parents.
They've been parents all along.
For more PSF, click
Here