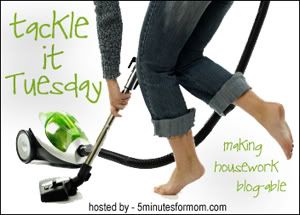 This weeks Tackle is.......... FOOD.
Let me explain. I will have a repeat c-section with this baby (Hopefully she arrives on the scheduled date -- but knowing my babies, she will come earlier)
I try to have a good bit of prepared foods frozen, so that when we get home, we can just take out of freezer, toss in oven and voila dinner. Without much work.
This week, I've started on my Freezer stash.
The list: (So far)
Spaghetti Sauce -- 3 bags
Meatballs -- 2 bags
Chili -- 3 containers
Beef Stew -- 2 containers
Chicken Noodle Soup -- 2 containers
Next up: Casseroles, Burritos, Pancakes/Waffles, Chicken Pot Pie, and who knows what else I'll come up with between now and then.
What are you Tackling this week?
For more Tackle posts, click
Here