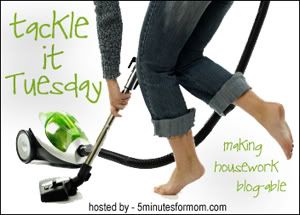 Nope. Sorry. No pics today. I know. I suck. Too bad.
But this weeks tackle was more baby stuff. I finalized the nursery plans. I have bedding on the way. It matches the already painted room.
I went through the 3-6 month clothing and sorted it for washing (once I catch up with laundry again)
I sorted the 6-9 and 12 month clothing and put them in marked bins by size and season to make it easier to go through later.
I pick up our carseat at the end of the month.
A friend has offered us her unused stroller and I graciously accepted (Hey its free -- who cares what color it is)
So there you have it. I've been tackling the baby stuff again -- What have you been doing?
For more Tackle it Tuesday click
here